In the dynamic world of blogging, staying ahead of the curve requires innovation and smart tools. The team at TotallyWP is excited to introduce WP Networker, an advanced WordPress multisite plugin designed to revolutionize the blogging experience for super admins. By leveraging cutting-edge AI technology, WP Networker empowers you to generate high-quality, unique blog posts and distribute them across subsites within your WordPress network.
Table of Contents
#WPN Genesis
The genesis of WP Networker lies in a simple yet powerful idea: making the process of creating and distributing content across a WordPress multisite network effortless and efficient. As a super admin, managing multiple sites is no small task. It involves not just curating unique, quality content but also ensuring its timely and appropriate distribution across different subsites.
WP Networker was created by the team at TotallyWP to address this very challenge. The plugin enables you to easily add draft blog posts to any subsite within your network, all from a single, centralized dashboard. It leverages advanced AI technology to help generate content based on your inputs.
These draft posts can then be reviewed, edited, and published by site administrators, making it a powerful tool for collaborative content creation. WP Networker removes the hassle of manual content distribution, streamlining your workflow and helping you focus more on the quality and impact of your content.
By simplifying content generation and distribution, WP Networker not only saves you time but also fosters consistency across your network. The plugin takes care of the heavy lifting, leaving you with more time to innovate and engage with your audience. In this way, WP Networker is not just a tool but a strategic partner, playing an instrumental role in your network's growth and success.
A New Era for WordPress Multisite Blogs
WP Networker is a solution crafted to alleviate common blogging challenges. Say goodbye to writer's block and inefficient processes. Say hello to a more streamlined blogging workflow and improved SEO for your network. The plugin is designed to work seamlessly with all types of blogs, making it a versatile tool for any WordPress multisite setup.
Feature-Packed and Ready to Impress
This plugin offers a rich array of features designed to make your life easier as a super admin:
Automated Blog Posts: Create high-quality blog posts in a flash. All you need to do is provide some input, and WP Networker does the rest.
SEO Optimization: Boost your network's visibility with SEO-optimized content created by our AI-driven tool.
Streamlined Blogging Process: Automate content creation across your network, leaving you more time for other important tasks.
Versatility: No matter the type or theme of your blogs, WP Networker is optimized to serve you effectively.
Installing the plugin
Getting this up and running is a breeze. You can download the plugin directly from our GitHub repository and follow these simple steps for installation:
Upload the wp-networker folder to your WordPress setup's/wp-content/plugins/ directory.
Network activate the plugin through the 'Plugins' menu in WordPress.
Access the plugin's settings through the 'Settings' menu.
How to Use WP Networker
Once you've installed and activated WP Networker, you can start generating blog posts right away. Navigate to the WP Networker dashboard in your WordPress network admin panel, select the blog you want to add content to, select the blog's category for the posts, and add the number of title input fields you wish to use. Once you're done, just click on 'Generate Blog Posts'. Within seconds, you'll have new drafts ready to be reviewed and published!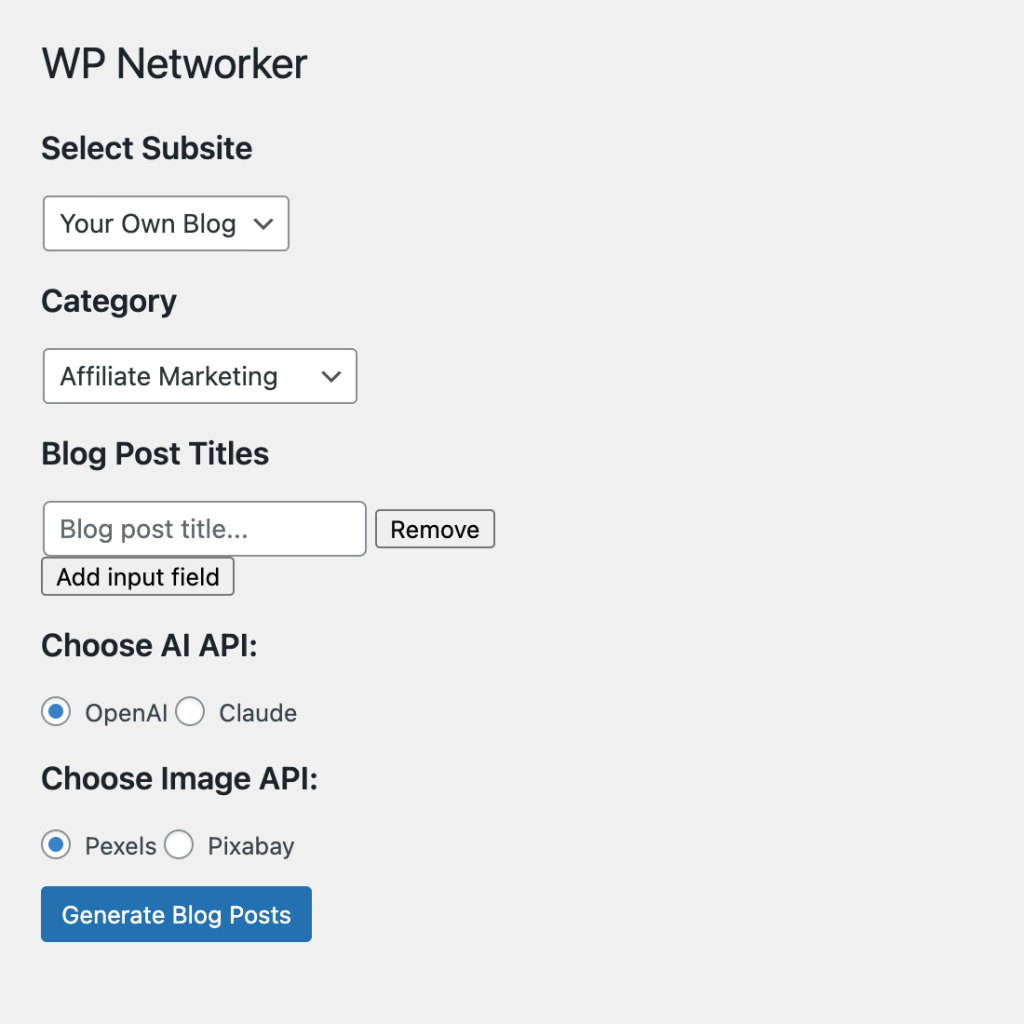 Join the Open-Source Community
At TotallyWP, we are firm believers in the power of open-source, specially the WordPress community. We welcome contributions and suggestions from the community. If you'd like to contribute to WP Networker, feel free to fork this repository, make your changes, and then open a pull request with your updates.
About TotallyWP
With a decade of experience in digital solutions, TotallyWP is your reliable partner in your digital journey. Whether you need help, discover bugs, or just want to say hello, we're here for you. Feel free to join our vibrant WordPress community by visiting our website at totallywp.com.
Experience the transformative power of WP Networker today and take your WordPress multisite blogging to the next level!